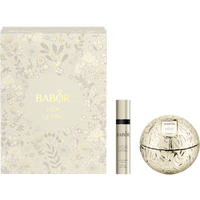 Babor HSR Holiday Set
$155.00
Lovingly packaged and offered at an attractive price, the exclusive Anti-Aging Gift Set from the HSR Lifting range provides you with special feel-good moments.
The set contains our HSR bestseller in an original size, a 50 ml HSR ANTI-WRINKLE CREAM, and an exclusive custom-made 10 ml ANTI-WRINKLE SERUM—for a complete anti-aging experience.
Together they form the ultimate anti-aging duo against all kinds of wrinkles and selectively combat the causes leading to wrinkle formation. Effectively prevents the loss of elasticity and provides intense lifting.